Texas Children's Hospital West Campus Celebrates Annual Christmas Tree Lighting
Posted by Gary Evans on Wednesday, December 29, 2021 at 3:21 PM
By Gary Evans / December 29, 2021
Comment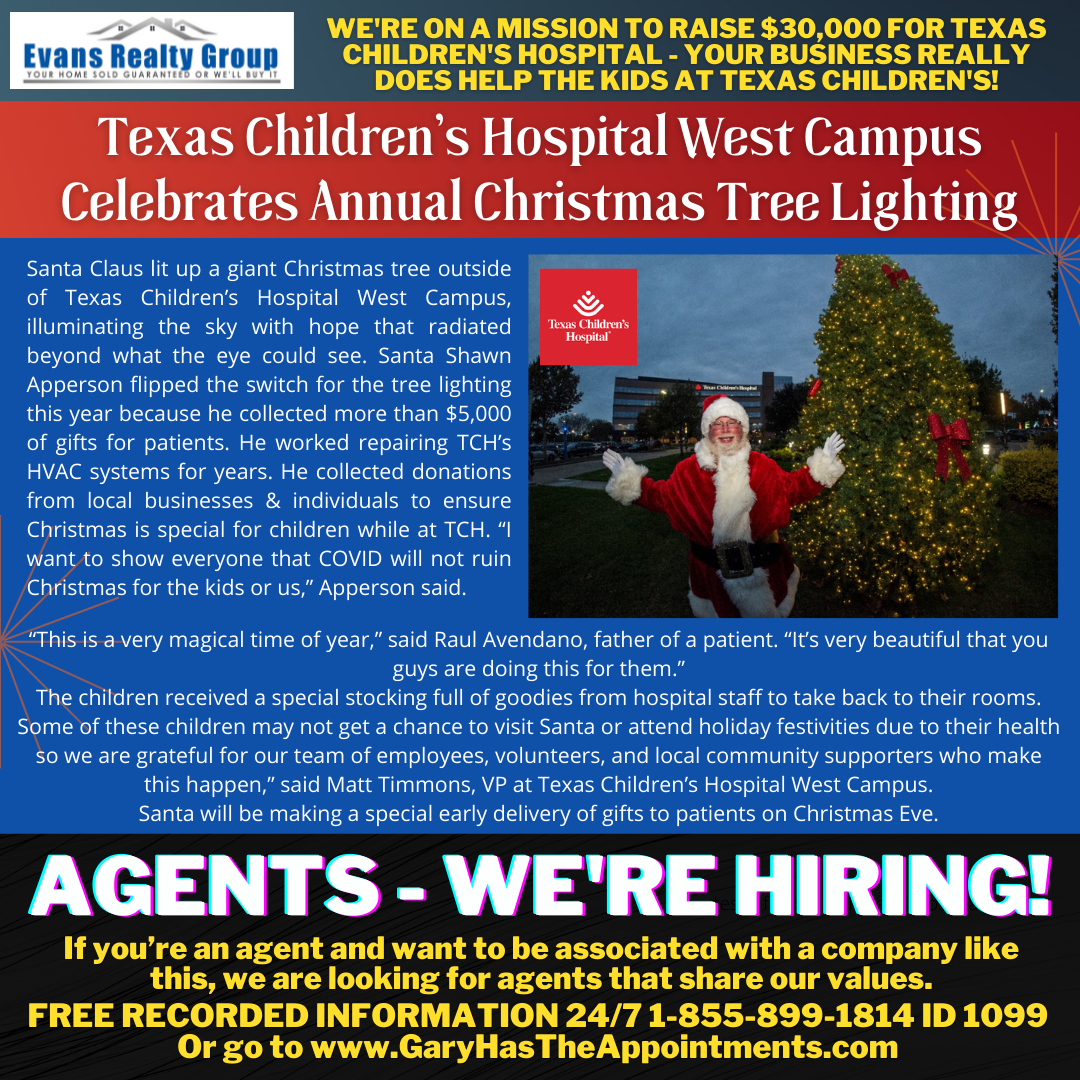 Texas Children's Hospital West Campus Celebrates Annual Christmas Tree Lighting
Santa Claus lit up a giant Christmas tree outside of Texas Children's Hospital West Campus, illuminating the sky with hope that radiated beyond what the eye could see. Santa Shawn Apperson flipped the switch for the tree lighting this year because he collected more than $5,000 of gifts for patients. He worked repairing TCH's HVAC systems for years. He collected donations from local businesses & individuals to ensure Christmas is special for children while at TCH. "I want to show everyone that COVID will not ruin Christmas for the kids or us," Apperson said.
"This is a very magical time of year," said Raul Avendano, father of a patient. "It's very beautiful that you guys are doing this for them."
The children received a special stocking full of goodies from hospital staff to take back to their rooms. Some of these children may not get a chance to visit Santa or attend holiday festivities due to their health so we are grateful for our team of employees, volunteers, and local community supporters who make this happen," said Matt Timmons, VP at Texas Children's Hospital West Campus.
☃️Santa will be making a special early delivery of gifts to patients on Christmas Eve.
#WorthyCauseWednesday
#EvansRealtyGroup
#ERG
#YourHomeSoldGuaranteed
#katyrealtor
#texasrealtor
#houstonrealtor
#KatyRealEstate
#HoustonRealEstate
#TexasRealEstate